Sterilizer Tower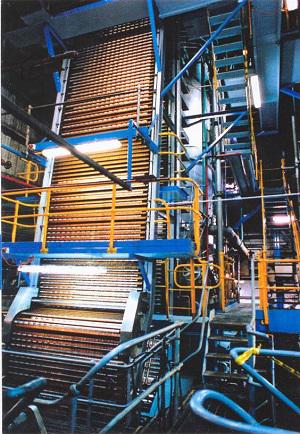 Stoppages during the sterilization process translate to downtime across a facility, which is why Tsubaki chains are designed to be continuously reliable.
Our chains are manufactured to be resistant to the stresses of heating and cooling, with specialised coatings also available to boost corrosion resistance. We can cater for the varying sterilization temperatures required for metal or plastic containers, delivering a perfectly adapted solution. If moisture is affecting the efficiency of your chain, our corrosion resistant solutions offer the dependability and predictability required to safeguard profit margins.
If a product is agitated during the process, an inferior chain can suffer greatly, failing unexpectedly and halting the entire line. We design our chains to be evolved to operate seamlessly in these environments, so our end users can gain utmost confidence in operation.
When your chain is resistant to the conditions, uneven wear and chain elongation that can affect precise indexing is also minimised. Durability and precision are two of the most important factors that govern our product range, so we have the expertise to deliver peace of mind.

Like all our conveyor chains, our chains for food and beverage applications are also available with a wide selection of attachments, allowing our users to entirely tailor their chain for the production line.