Port Facility
The world economy relies on ports to distribute products all over the world, so this crucial link between shipping and land transport requires the utmost in reliability. Tsubaki is a leading provider for the port industry, combining nearly a century of experience supplying solutions via OE manufacturers and maintenance partners.

We understand the industry's reliance on durable, reliable equipment to preserve schedules. With almost every business on the planet relying on ports to distribute their products to the global market, we make sure all of our power transmissions solutions are dependable too.
RTG »
Spreader »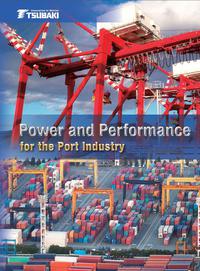 Innovative Solutions for the Port and Crane Industry
With nearly a century of successful manufacturing know-how and technical expertise, Tsubaki can provide the best solution to keep port operations running reliably and total cost of ownership down. Put the Tsubaki Advantage to work for you.