Spreader
As the only connection between gantry and container, the reliability of spreaders is not only paramount to preserve profitability, but also safety. For total control, Tsubaki Power Cylinders fit the specification. Electric linear actuators that can be installed and operated with simplified wiring, Power Cylinders remove the need for hydraulic circuits, which can leak and contaminate the local environment. Tsubaki Power Cylinders allow spreader arms to be matched to the size of a container, providing a safe connection during lifting. The skew, trim and lift of the container can also be adjusted by Power Cylinders that control the hoisting rope.
Check out the features of Tsubaki Power Cylinder in an animated video here.
Spreader arms can also be controlled via Tsubaki standard roller chains. Several unique attributes to the range such as Ring Coin connections, Solid Bushes and Lube Grooves offer increased quality over competitor chains. Such features result in a solution of increased reliability and service life.

Tsubaki Kabelschlepp cable carrier system is used the world over to protect vital hydraulic hose and electrical cable as the spreader head travels the length of the gantry. The high quality roller supported chain is capable of safely carrying cables at up to 5m/s second for lengths of over 100 metres.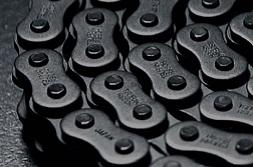 Standard Roller Chain Series
Since 1917 Tsubakimoto Chain Company has maintained a line-up of cutting-edge chain products with exceptional quality and performance that help end-users meet their power transmission and conveying requirements. For standard situations, Tsubaki can provide you with two outstanding roller chains: the GT4 Winner and the ANSI G8.
Hoisting and Lifting in the Port Industry
Tsubaki is a leading supplier of power transmission components to the industry both through OE and maintenance channels. Here we explain how high quality components can improve overall reliability, efficiency and productivity within the port industry.