Hoisting and lifting in the port industry
Worldwide commerce is heavily dependent on the port industry to lift and shift every kind of commodity and keep the global shipping lanes moving. As the crucial link between sea freight and land transport, the port industry depends on reliable and durable equipment to ensure shipping deadlines are met.
Tsubaki is a leading supplier of power transmission components to the industry both through OE and maintenance channels. Here we explain how high quality components can improve overall reliability, efficiency and productivity within the port industry.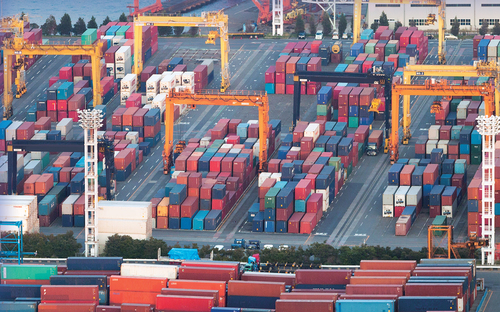 For the most part the freight is transported in standardised steel containers, which makes the transitions between different modes of transport more efficient and minimises any delays. It also enables manufacturers of both lifting and transportation equipment to deliver products that are guaranteed to fit perfectly.
Due to the sheer volume of containers that are moved around the world every day, it is essential that all the equipment involved in lifting and moving them delivers long term reliability in order to keep the ports operating efficiently. Ships must be able to dock, swiftly unload their cargo and then reload for their onward journey. This means that ship to shore cranes, gantry cranes, mobile stackers, container spreaders and many more pieces of equipment must all work reliably, 24/7 without any unscheduled downtime.
In order to deliver such a demanding schedule, precision components are required to ensure precise positioning of the containers, and therefore a quicker transit time for the cargo. A key component in this process is the freewheel, which can be designed for overrunning or backstopping, depending on the application.
Tsubaki has a long and distinguished record of designing and manufacturing freewheels under the Cam Clutch brand which provide long lasting service in this arduous environment. Offering purpose built models for precise engagement and excellent reliability, Tsubaki is able to increase the available operating time and reduce maintenance costs.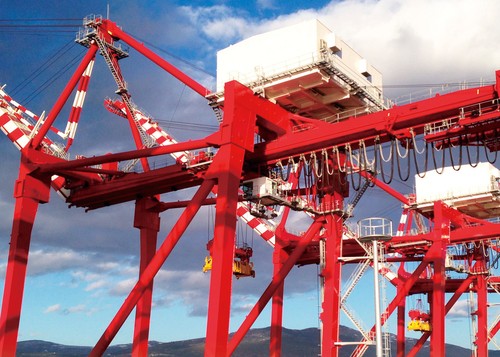 Environmental considerations
Around the world, governments and legislators view ports and shipping terminals as critical infrastructure assets. Their ability to 'go green' by reducing their carbon footprint and by being more sensitive to environmental considerations, is vital to their future success. This philosophy encourages the reduction of engine emissions, fuel consumption and highlights the importance of eliminating oil leaks from hydraulic cylinders and associated circuits that could contaminate the local environment.
This initiative is supported by Tsubaki with a range of products that are designed to be reliable, efficient and environmentally sensitive. Tsubaki Power Cylinders are electric linear actuators that can be installed and operated with very simple wiring, in place of a hydraulic circuit that has the potential to leak.
Rubber Tyre Gantry (RTG) cranes can be equipped with Power Cylinders for steering, allowing the wheels to be turned up to 90 degrees. At the same time the length of the spreader arm must be matched to the size of the container and this adjustment can also be managed by the Tsubaki actuators. The Power Cylinders can also be used to adjust container tilting or positioning by moving the hoisting rope to alter the skew, trim and list of the container.
Flexible support
Clearly with any lifting or hoisting application, control cables and pipes need to be carefully marshalled and protected in order to maintain the operability of the equipment. This can be very effectively achieved using specifically designed cable and hose management systems that offer precision design with the durable materials required for operation in the port environment.
Kabelschlepp, a member of the Tsubaki Group, manufactures the Roller Supported Chain (RSC) system that delivers long service life and reduced maintenance. By using rollers in the design, the push/pull forces on lengths of 50 meters or more have been reduced by as much as 90% when compared to gliding arrangements. Designed to accommodate high travel speed and acceleration, the RSC system has also been rigorously tested to ensure long term reliability in port side applications.
However, such systems need to be carefully designed for each application to ensure that the cables and hoses are properly secured and protected. In addition, the cables that are installed in the carriers need to be properly specified in order to deliver long term reliability and performance in a constantly moving application. All of this can be achieved by working closely with experienced design engineers that have access to the latest design tools and manufacturing expertise, such as those at Kabelschlepp.
Improved performance
Within many pieces of lifting equipment, leaf chains are often ignored until they either fail or they need unexpected maintenance attention to keep them operational. In many cases OEMs specify a chain that will perform adequately for a period, but long term reliability is not always a priority. In applications where durability and performance in a testing environment such as a port are essential, specifying a premium quality drive chain can deliver long term cost savings.
Tsubaki drive chain uses high quality materials and hi-tech manufacturing techniques which minimise wear at the contact points between the rollers and bushes and reduce elongation significantly when compared to competitor products. These properties reduce replacement frequency and maintenance costs which in turn lead to reduced Total Cost of Ownership (TCO).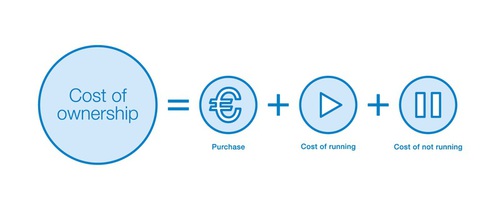 Modern commerce and keen competition demands that a port operates in the most cost effective manner, which means transferring cargo efficiently using all the available lifting assets. Any unplanned down time can have a significant effect on both scheduling and operating costs. Both port operators and the manufacturers of the lifting equipment can benefit from improved reliability and reduced operating costs.
Tsubaki is able to supply a range of components that have been tried and tested within port applications and have a proven track record for long lasting reliability. The modern port facility is required to operate within tight margins and must achieve high levels of performance in order to remain profitable. By paying attention to the individual components within the much larger operation, it is possible to build reliability into individual pieces of equipment, which in turn will deliver improvements in overall efficiency.