Gable Top Carton Filling
Cartons are widely utilised in the beverage industry. Ensuring the reliability of carton filling machines is important in upholding the uptime of the line as a whole.
The chains in gable top filling machines must be both precise and hygienic - the Tsubaki chain range is ideal.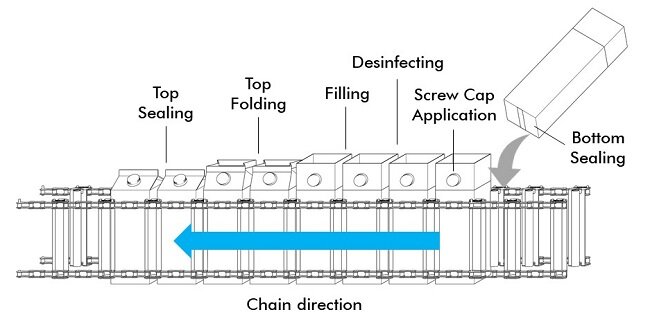 Uneven elongation of chains can cause cartons to become misaligned in the machine, causing filling failures and downtime. Furthermore, the stringent hygiene standards in the food and beverage industry demands that chains must be suitable for washdowns - resisting both contamination and corrosion. Tsubaki SS and AS chain features durable stainless-steel construction and excellent corrosion resistance, ideal for these applications.
Tsubaki chains are designed to be resistant to elongation, which naturally leads to improved service life. SS, AS and LSK chains provide exceptional durability over a wide range of temperatures. The LSK includes a wear resistant bush for longer life and offers reduced initial elongation.