Cam Clutches - Freewheel Clutches
Tsubaki MCD's product program of Cam Clutch, Freewheel Clutch, One-Way Clutch, Sprag Clutch, Overrunning Clutch, Backstop is the most extensive available worldwide, covering all the European requirements and is compliant to international standards.
From high and low speed overrunning applications to backstopping or high-precision indexing; Tsubakimoto has a Cam Clutch / Freewheel Clutch to match the application, even in the toughest operating conditions. Where a customer needs something just that bit more special, then he can rely on the wealth of experience of our engineers to develop a tailor made Cam Clutch / Freewheel Clutch from the drawing board up, and suited to specific requirements.
Cam Clutches / Freewheel Clutches are precision devices which lock the inner and outer races, through the wedging action of cams, to transmit torque in one direction of rotation and overrun in the opposite direction. These units are often referred to as freewheels, sprag, overrunning, indexing, backstop or one-way clutches, depending upon their application.
Tsubaki Cam Clutch / Freewheel products are designed to transmit torque in one direction of rotation and overrun (freewheel) in the opposite direction of rotation. All Tsubaki Cam Clutch / Freewheel products utilize the same principles of operation. Tsubaki offers various series of products to address the many types of applications where Cam Clutch / Freewheel products are most often used. The three most common types of applications are listed below:
Backstopping Clutch

Clutches are used to prevent reverse rotation of drive shafts which may cause damage to machinery and expensive equipment. The inner race can overrun freely in one direction of rotation. Reverse rotation is instantaneously prevented by the automatic engagement of the clutch. Typical backstop applications are in inclined conveyor systems, gear reducers and industrial fans. Tsubaki has pioneered the non-rollover design.
Overrunning Clutch
These clutches spin freely the majority of the time, occasionally being called upon to lock up and drive. Typical is a two-speed drive, where the machine is driven by either an electric motor or geared motor. When the gearmotor drives at low speed the clutch engages. When the faster electric motor drives, the clutch overruns, automatically switching between low speed and high speed.
Indexing Clutch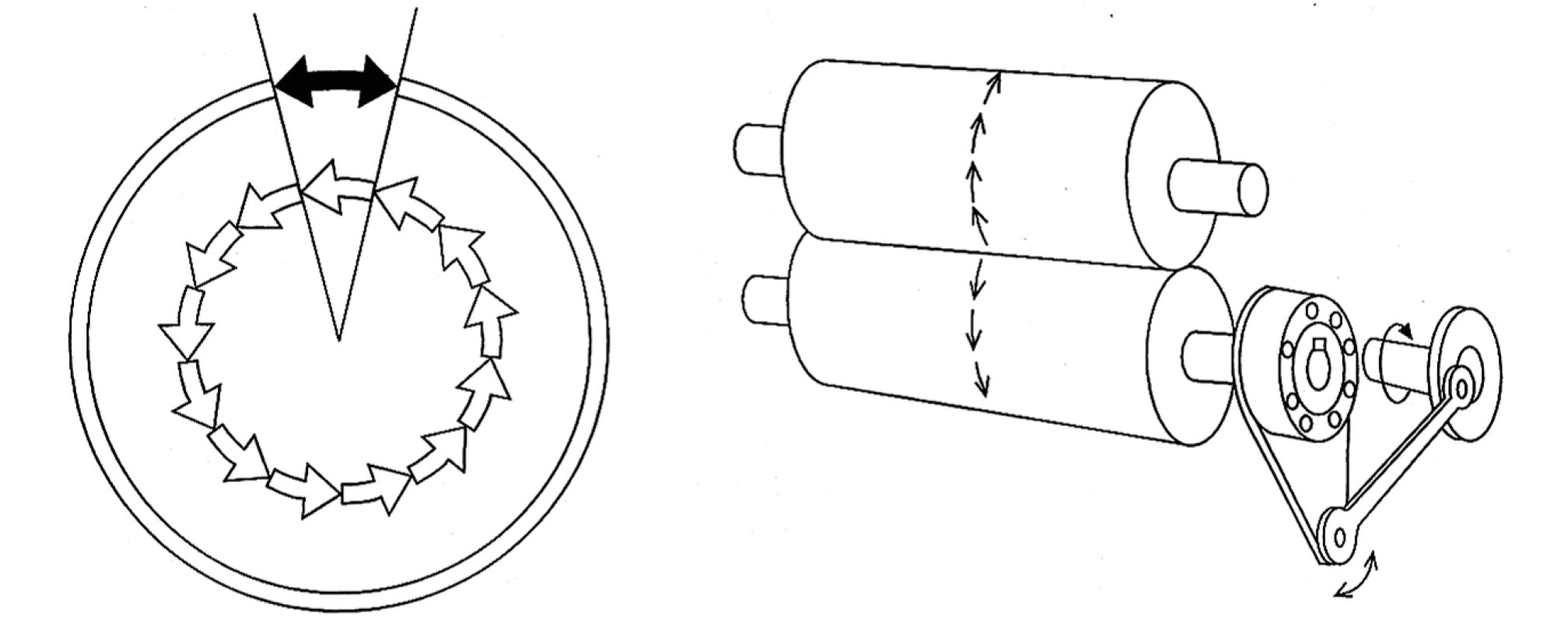 Reciprocating motion applied to the clutch transforms into one-direction motion. A crank mechanism provides reciprocating motion to drive the Cam Clutch. The clutch drives in the forward stroke (index) and overruns on the return stroke, indexing the feeding roller forward.
Design features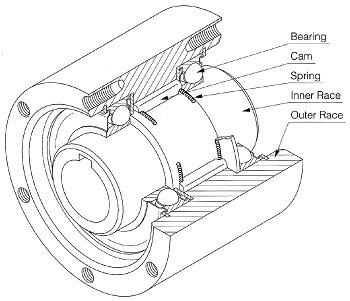 Full Cam Compliment - Provides greater torque capacity size for size than other types of one-way clutches.
Cam Design - Precision formed cams made of special alloy steel provides long wear and fatique life. The unique cam shape prevents the cams from rolling over if the clutch is overloaded.
High Quality Components - The clutch races are made of high quality alloy steel with a high surface hardness and core toughness. The races are precision ground, provide excellent concentricity and surface finish to obtain accurate cam rotation.
Watch the movie below to view the technical details of Tsubaki Cam Clutch / Freehweel.
Read more about the Tsubaki Cam Clutch / Freewheel Clutch line-up here. If you have any questions or requests, please contact Tsubakimoto Europe B.V. via our contact form.
Cam Clutch / Freewheel Clutch Interchange tool
For your convenience, we have developed an interchange tool where you can look up the brand and type of the current model and find the Tsubaki equivalent.