Home » News » Press Releases » Tsubaki introduces One-Touch Inspection Doors for use with bulk material conveyors
Tsubaki introduces One-Touch Inspection Doors for use with bulk material conveyors
Tsubaki has launched a range of One-Touch Inspection Doors or hatch covers for use with conveyor systems, particularly those transporting bulk materials such as flour, grain or aggregates.
The door is intended for installation on chutes, hoppers, covered conveyors and other material handling plant and equipment. It has a simple lever lock mechanism that can be opened one-handed to allow inspection or to give access for cleaning.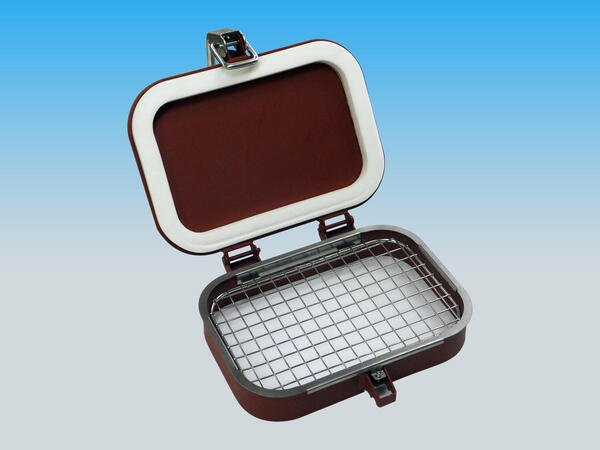 Each door unit is fitted with high performance gaskets that provide a dust tight seal and also serve to keep rain at bay in outdoor installations. In fact, there is a choice of gasket materials to suit different application needs, polyethylene foam (white), neoprene rubber (grey), and heat resistant (200º/400º). Their performance is guaranteed over time by the rigidity of the frame, which is designed to maintain its shape throughout its working life.
Two styles are offered, regular and high-neck. The former is designed to be compact; the latter is taller and raises the door up so is suitable for installation on curved surfaces, when extra space is required to accommodate insulating material and other special cases.
Both styles are available with a variety of door options, including solid, windowed, pressure resistant, flanged and with a screen. They are also available in three corrosion resistant series, P series (standard), Q series (corrosion resistant), and R series (all stainless steel).
Finally, there is a special version with a key lock option, which is expected to be used mainly in applications such as the conveying of foodstuffs where security is an issue. Naturally it could also be used as a safety feature, restricting access to potentially dangerous machinery to authorised personnel only.
The doors are available in a range of sizes from 50mm by 80mm to 100mm to 170mm. Full details are available on Tsubaki's website.