When increased profit is a chain reaction
The performance of existing plant and machinery can sometimes be markedly improved by the simplest of modifications, such as retrofitting a better quality transmission chain. Greg Sharp of Tsubaki UK expands on the concept and looks at some real-world examples where productivity and profitability gains were achieved.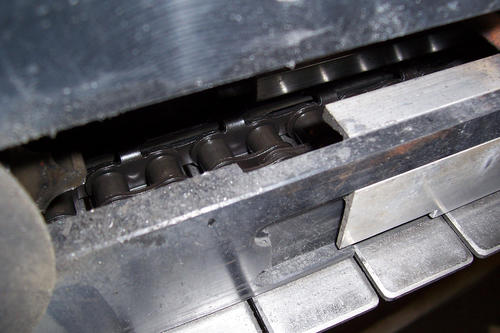 Tsubaki's maintenance free Lambda chain provided the German machine builder with longer life and reduced maintenance costs
It is easy to take transmission and conveyor chain for granted. Often viewed as a commodity product, it's easy to overlook the demands and stresses placed on each link during operation. The effects of impacts, misalignment, harsh conditions or poor maintenance can quickly lead to wear or damage, which can result in lost production hours.
This creates an interesting opportunity: why not consider using a high quality or specialist replacement chain that will lead to better overall machine performance?
An interesting point to bear in mind here is that when the machine was originally built, whether by an in-house team or by an external OEM, there will have been a budget to meet. It is entirely possible that the chain fitted at that time was procured on price rather than optimal suitability for the job in hand. Replacement of that chain with one better suited to the duty could therefore prove extremely beneficial.
A replacement chain could be better from a number of different stand points. For instance, a lube free chain could provide a fit and forget alternative to standard, externally lubricated chain. While this may seem like a minor saving, across even a modest sized plant you could be saving several man hours a week, plus the constant cost of buying in more lubricant. Lube free chain also significantly reduces the risk of a catastrophic failure caused by accidentally missing out a lube point or two or by using the wrong oil.
Due to environmental challenges many chains have to be replaced regularly. In such instances it is tempting to specify budget chains in order to reduce costs. However, an alternative is to actively seek out a better quality chain that would last longer. It is not unusual to double or quadruple chain life by upgrading to a product that is optimally suited to the work load and environmental conditions, and some fairly simple calculations will allow you to quantify the overall savings.
Another possibility for achieving cost savings with a retro-fit chain is where attachments are fitted to the new chain so that it becomes a bespoke component ideally suit to the job in question. In this case, it is difficult to generalise as each application will be unique, so let us look at the following example.
Body parts
For a German machine builder for automotive assembly line, one of its most popular products was a conveyor system for vehicle body panels and other parts. Originally the manufacturer developed its conveyor design using a standard conveyor chain. However, it became apparent that due to the heavy loads and long duty hours the lifetime of the original chain was short.
Once installed there was a need to regularly re-lubricate the chain, a process that represented a 'hidden but real' cost. In use the chains soon became stiff and difficult to articulate as contamination built up on the links, leading to a maximum working life of 12 months. Also, many of the top plates were coming loose due the poor riveting, which often led to unexpected chain breakages and production stoppages.
The machine builder wanted to improve on its machine design and so invited experts from Tsubaki to conduct a review and suggest possible solutions.
Several ideas were discussed; the one chosen was to switch from the original commodity chain to Tsubaki's maintenance free Lambda chain, with every second link replaced by a special top plate which eliminates the need for lubrication. The result of this was that contamination of the new chain was minimised preventing the previous stiffening so that free articulation was maintained in the long term.
Tsubaki engineers also offered special high tensile screws and high strength adhesive to prevent the screws from coming loose. These changes were implemented, producing advantages of no breakages, longer life and reduced maintenance cost.
Paper mill
A similar problem was evident at a paper mill where, although the loads were far lighter, tiny pieces of tissue paper were quickly compromising the chain lubricant in a tissue log saw accumulator. Tissue paper is made in a large continuous web that is rolled up into logs as it is produced. These logs are then cut to length to produce rolls of kitchen and toilet paper. The cutting process creates what is effectively sawdust, which flies around and can settle on chain to create a sticky mess by soaking up oil. This sawdust debris caused the chain to become stiff, which led to the logs being tipped out of alignment and the accumulator blocking up.
The accumulator's maker switched to Tsubaki Lambda chain and saw an immediate improvement. The manufacturer also adopted Tsubaki's match-and-tag service in which chains are precision measured and paired up so that when they are installed in parallel on a machine they operate in perfect synchronicity. For this application the resultant improvements meant that there is no longer any sideways drag on the tissue logs to pull them out of alignment.
The benefits for the paper mill included longer chain life, lower maintenance, less product contamination, fewer mis-cuts and higher overall productivity.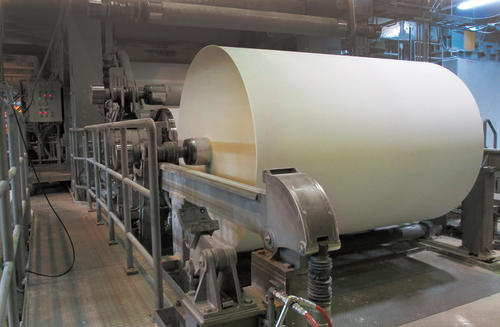 Best thing since sliced bread
Bakeries need their bread lines to run like clockwork so that they can reliably deliver fresh loaves every day. One bakery had built a transfer conveyor to take loaves from the continuous ovens to the packaging and dispatch area as efficiently as possible. This was based on a design using five parallel strands of 0.5in pitch roller chain. To maintain hygiene standard all plastic chain was specified.
Unfortunately, the OE chain proved unsuitable in that it became brittle due to the hot environment and regular scrubbing of the dry cleaning process; this lead to regular breakages. Further exacerbating the issues, each strand of chain stretched at different rates, which caused the loaves to move erratically towards the sides of the conveyor, from where they could fall onto the floor.
Having identified the problem, the bakeries maintenance engineers approached Tsubaki to see if it could suggest a replacement solution. Tsubaki offered a solution by replacing the original chain with one based on solid extruded plastic inner links coupled with stainless steel bearing pins and outer plates. This is stronger than an all-plastic chain, lube-free and very hygienic so suitable for food industry applications. Since the swap the bakery has reported no faults and no unscheduled stoppages.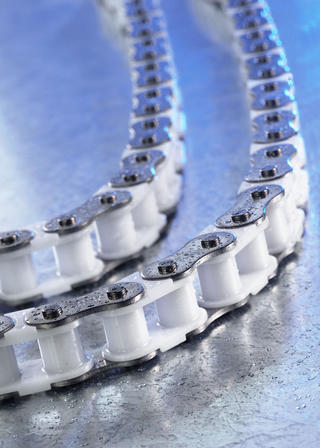 This BS Plastic Combination (PC) chain is stronger than an all-plastic chain, lube-free and very hygienic so suitable for food industry applications
MRO Expertise Increases Productivity
Each of the cases above demonstrate the important role that MRO professionals can play in the profitability and success of manufacturing operations. Beyond keeping a plant operational, it's possible to engage with engineering expertise to identify areas for improvement and make a tangible improvement to the bottom line.
Transmission chain will always eventually wear and need replacing. This presents maintenance engineers with the opportunity to investigate alternative solutions to the original equipment. Working with a specialist manufacturer such as Tsubaki makes it possible to tap in to over 100 years of expertise. For almost every industrial application it is possible to increase chain life, reduce maintenance costs or improve efficiency in operation.