Tsubaki innovations on attachment chain
Attachment chain is one of the unsung heroes of the industrial world, being critical to the movement of a diverse range of products along the production line. From the food and beverage sector to pharmaceuticals, and from packaging to automotive parts production, attachment chain is critical to the efficiency and reliability of the production line.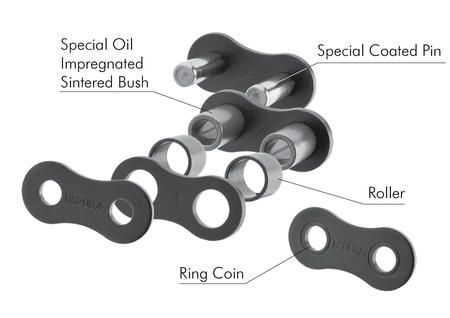 Selecting from a range of standard and custom attachments allows the chain to be customised to the precise needs of the conveying application. Options include extended and folded link plates, extended pins, and other fittings which are attached to the basic roller chain to provide a highly tailored engineering solution.
With regard to maintenance or overhaul of attachment chain, factors such as installation time, maintenance activities - for example re-lubrication or replacing chains because of elongation - and the shorter lifespan of a budget chain all impact on total cost of ownership, quickly adding up to significantly increased MRO costs. With its history of innovation, Tsubaki's argument has always been that attachment chain should be regarded as much more than a commodity product, with a correctly specified and well engineered attachment chain solution adding value to the conveying application.
The characteristics of the conveyed materials and the working environment are different for each application. Because Tsubaki's attachment chain is available with the same added value and solution providing features as its drive chain, engineers have the freedom to build tailored systems that precisely meet the needs of the application. For example, the food industry typically requires corrosion resistant parts, which can be provided by the Tsubaki Neptune series for carbon steel chains, or fully stainless steel chains and attachments where required. Where a maintenance-free solution is important, Tsubaki's Lambda range is also available with a wide range of attachments, eliminating the need for re-lubrication and contamination risks to finished products.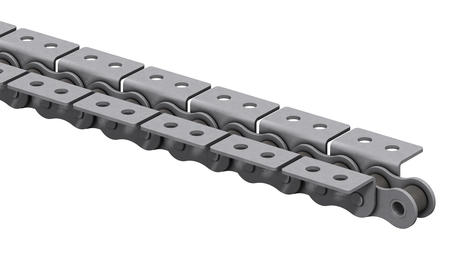 Attachments are available for both single and double pitch chains. Let's look in detail at the various basic parts, and the specification considerations that can have a performance, and therefore an MRO implication.
The A attachment is the most commonly used, having a folded link plate that extends out on one side of the chain, forming an L shape. When A attachments are installed on both sides of the chain, they form a K attachment. Slats or jigs can then be installed over the chain. Consideration should be given to the attachment interval, the width and rigidity of the slats, Tsubaki offer a full technical support service, that can help select the best chain for the application.
Variants of the A and K attachments are the SA and SK, where the link plate is extended.
The D attachment is an extended chain pin where components such as trays, cross bars, and other fittings can be connected to the chain to convey products. The extended pins are subjected to bending and shearing forces.
With the GK-1 attachments, a hole is added to the centre of both link plates, enabling fittings to be attached between two (or more) parallel chains. This type of attachment is often used when cross rods with larger diameters than the maximum applicable diameters of a hollow pin chains are used.
For single pitch chains, many of these attachments are also available with W designations, where the width is equal to the width of the link plate.
Tsubaki stocks an extended range of standard components, and offers a build to order service. As a leading innovator in attachment chain, when starting with a completely new design Tsubaki can tailor make an attachment chain in any specification, including custom manufactured attachments. Special designs might include specific dimensions, such as non-standard assembly holes.
Further, in addition to its standard attachment chain, Tsubaki has recognised the individual requirements of different applications with a number of specialty attachment chain options. For example, there are specially tailored chains for applications such as can processing and book binding. The packaging sector can take advantage of flat-topped chain, thermoforming gripper chain or special extended pins. For tray packing applications in the beverage industry where machines require pushers to be fitted to the transport chain, Tsubaki has developed a bespoke solution in which the attachments are mounted by an engineered extended pin whilst bringing lubrication free advantages, reducing wear and contamination.
From an MRO perspective as a retrofit solution, this can play a key role in addressing potential reliability issues of the OEM product or of previous low-cost replacements which are failing to live up to performance requirements.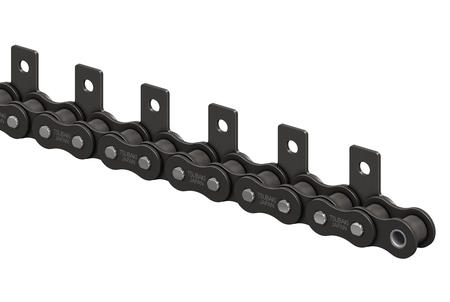 Tsubaki can supply attachment chains with a specific length tolerance, or length-matched chain sets for exact alignment, supplied tagged for easy identification and installation. This meets the needs of conveyor applications where chains have to run in parallel, for instance in packaging machines or when a minimum difference in chain length is required in lifting applications such as accumulator towers.
There are numerous examples of where replacing an existing chain with a Tsubaki attachment chain engineered to meet the application requirements has helped to maximise productivity and reduce costs. For one manufacturer of glass fibre insulation, a conveyor system that passed through an oven was suffering from premature chain wear which was in turn affecting product quality. To solve the problem, Tsubaki manufactured a conveyor chain with some special features, including hardened chromium-plated pins, and a dry lubricant that would provide high lubricity even beyond the temperatures experienced inside the oven. The result was an expected saving of €650,000, as well as a gain of six weeks production time.
For a popular chocolate manufacturer chain elongation and contamination of the chain lubricant was causing high maintenance costs, with unacceptable levels of lost production time. Tsubaki recommended a Lambda lube-free chain, fitted with a unique attachment that connects with the moulding trays. The replacement chain extended the chain life by a factor of three, and without the need to continuously maintain it causing any loss of production. This simple replacement using a high quality chain with tailored attachment when compared to the OEM product offered savings in maintenance costs and in reducing lost production, amounting to an annual saving of over €50,000.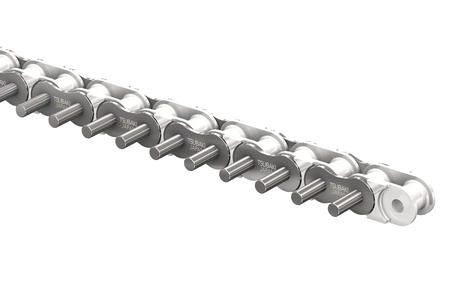 Often conveyor chains fail prematurely because insufficient consideration has been given to the forces on the attachments or the environmental influences. With its wide range of different attachments, and in-house expertise in system design, Tsubaki can offer advice on the right attachments, the correct intervals, and aspects such as the required characteristics of the slats and rods supporting the load.
Tsubaki has been innovating in attachment chain throughout its long history, with developments based on usage and demand. The company is able to combine high quality, tailored solutions with quick delivery, providing attachment chains that offer the long term performance and reliability characteristics needed to minimise MRO costs.