Home » News » Press Releases » Tsubaki chain offers added value and reliability for improved Total Cost of Ownership
Tsubaki chain offers added value and reliability for improved Total Cost of Ownership
The phrase 'You get what you pay for' can be applied to many situations; not least to industrial chain, which often has to work hard in tough environmental conditions. While there are many budget chains available on the market, they are likely to wear more quickly - leading to higher maintenance costs and a greater chance of unplanned downtime.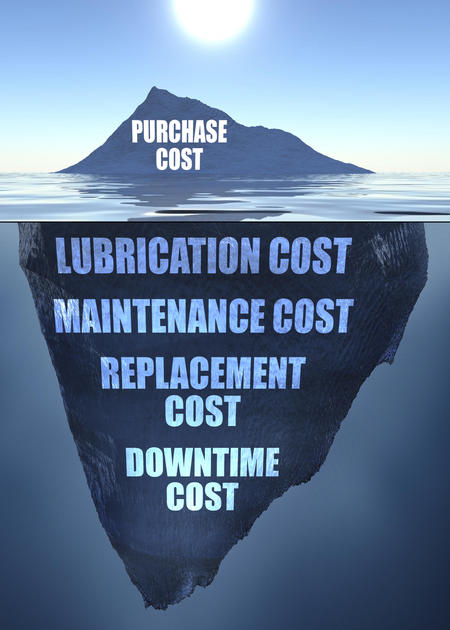 Selecting a budget chain is nearly always a false economy once you look at the Total Cost of Ownership
Derek Mack, Sales Director for Tsubaki UK, explains why the world's leading manufacturer of industrial chain strives for absolute quality in every link. Sometimes the 'total cost of ownership' (TCO) argument does not wash with those in the design and/or purchasing departments and they prefer to buy cheap components. While this produces an initial cost saving, there are likely to be significant financial ramifications further down the line in terms of a greater maintenance demand and shorter working life before the component has to be replaced. Perhaps significantly, the design and purchasing departments are not directly involved in the MRO consequences of their decision making.
For an end-user, there is time, money and effort tied up in more frequent maintenance plus a need to budget for a replacement component sooner rather than later. For an OEM, the poorer quality components will define the market's perception of its products and there may be a need to schedule more frequent customer service visits. This issue can be most pronounced with components like industrial chains, where product quality is not immediately visible to the naked eye. At first sight a top quality chain can look remarkably similar to one from the bargain bin; it takes some expertise to identify the differences.
Quality chain is made from the best materials, to exacting dimensional tolerances, heat treated with supreme accuracy and assembled with care - none of which is easy to see at first glance. As a result, it is often best to rely on buying a known and respected brand of chain. Tsubaki is the world's leading manufacturer of industrial chain, a position maintained through a commitment to R&D, quality manufacturing, and first class support services for both MRO specialists and end-users. It is committed to making top quality chains in a wide range of sizes and formats and forming strong, supportive relationships with customers and users alike so that its expertise is available to all relevant parties.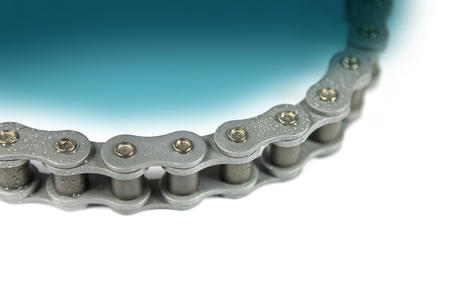 Tsubaki's Neptune chain has been manufactured to suit certain environmental challenges may last many times the lifespan of a standard chain product
Tsubaki takes the view that the TCO of budget chains includes the cost of installation, maintenance requirements, unexpected downtime, early failure and frequent replacement. Furthermore, there are costs to consider in relation to lost production and diminished market reputation. For example, one UK confectionary producer was experiencing frequent stoppages due to frequent chain failure. When Tsubaki recommended they replace the budget OE chain with a premium alternative, the annual TCO reduced by over £130,000. To look specifically at power transmission chain, installation time and therefore cost can vary greatly. This is partly due to product quality and partly due to the situation in which it is being fitted, be it a fiddly tight space or harsh environment where extra care must be taken. Maintenance procedures vary from a quick squirt of oil while the chain is working, to stopping production for realignment, re-tensioning or removal of links to compensate for elongation. The cost implications are easy to imagine. Eventually there is the cost of replacement - and its attendant procurement and installation costs. Replacement will always require stoppage of production, possibly for a long time if installation is not straightforward. Obviously a well specified, quality chain will have a longer working life, so replacement costs will be incurred less frequently.
There are some tricks of the trade that help ensure a long and reliable working life from an industrial drive chain. These include: buy quality brands, either directly from the manufacturer or through a reputable third party; consider a lube-free option such as Tsubaki's Lambda chain which requires less maintenance and may save more money because it reduces cleaning needs elsewhere; and seek advice and support from a chain specialist. Tsubaki engineers are always available to speak to MRO professionals and maintenance manager to help select the most appropriate size and style of chain; at installation and re-installation make sure to check the tension, alignment, and if appropriate load sharing over multiple chains. Above all, the most important tip is don't be seduced by purchase price. A quality chain could easily cost twice as much as a budget option, but is almost guaranteed to repay its premium many times over through reduced maintenance and longer life. If you add to this the cost of lost production, then the true cost of budget chain can look very expensive indeed.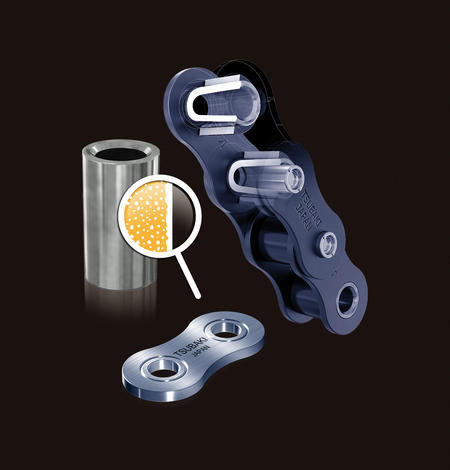 Tsubaki's Lambda lube-free chain eliminates the need for external lubrication - minimising maintenance costs and reducing the risk of contamination in hygiene critical applications
We have a proven track record in reducing the TCO across many industries. A large steel mill recently made savings of over £100,000p.a. while a car manufacturer is saving more than £230,000p.a. - all thanks to well specified, premium chain. Having calculated the TCO of a large number of installations, Tsubaki is able to say categorically that selecting a budget chain is frequently a false economy in the long term - and often in the not-so-long term too.