Tsubaki launches new website to support end users and industry
Tsubakimoto Europe has launched a new website to inform and support its end users, providing a comprehensive point of reference to explore its range of high performance chains and accessories. Characterized by a fresh aesthetic and an intuitive user experience, the new site offers industry and product insight to help inform component or service selection for specific applications.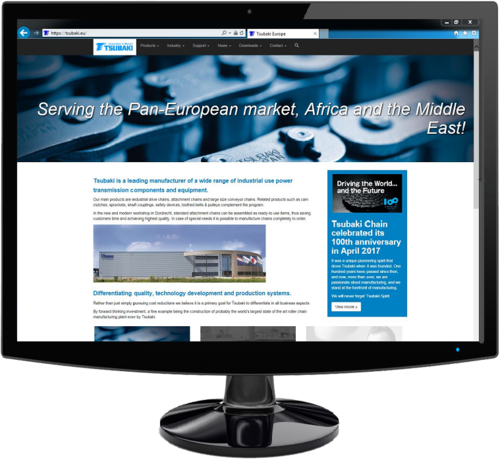 Products from the Tsubaki range are utilized in virtually every process or industry that requires high performance drive chain solutions. To help end users specify the ideal product for their application, the new site contains sections for each individual industry served, and the major applications within them. Application demands, technical information and Tsubaki product advantages are supported with real-world case studies - demonstrating exact solutions and the benefits to operations they provide. The result is an extensive interactive Tsubaki knowledge base that can positively inform any end user purchasing decision.
Information is supported by aesthetically pleasing graphics and photos, including images taken in the field to further enrich case studies. The entire range of Tsubaki catalogues and industry flyers is available for download, allowing users to quickly obtain and filter relevant information. Designed to accommodate multiple platforms and devices, the new Tsubaki website responds seamlessly to user behavior and environment, delivering a pleasurable browsing experience.
Furthermore, interested visitors can use the site as a point of contact with Tsubaki specialists regarding their applications. Whether a new or existing customer, technical guidance and advice can be gained within a few clicks to help with application challenges and product specification.
With Tsubaki celebrating its centenary in 2017, the new website gives users a first-hand glimpse of what the company has planned for the next hundred years.