Tsubakimoto building automotive chain factory in Czech Republic
Drive chain maker Tsubakimoto is to set up its second plant in Europe. Located in the Czech Republic, Tsubaki Automotive Czech Republic s.r.o., will manufacture and assemble timing chain drive systems and associated products for leading car manufacturers across Europe.
Building works are already in hand at a site in the Central Bohemian town of Kolin about 55km (35 miles) east of the capital city Prague.
Tsubakimoto planned the construction project to proceed in stages, the first being a 5000sqm building which will be completed by November 2017 and house 40 personnel. The whole site should be fully operational by 2020, when it will have a total built area of over 40,000 sqm and employ 80 people in manufacturing, commercial and engineering roles. Total project investment is expected to be 400 million CZK (about 14.3 million Euro).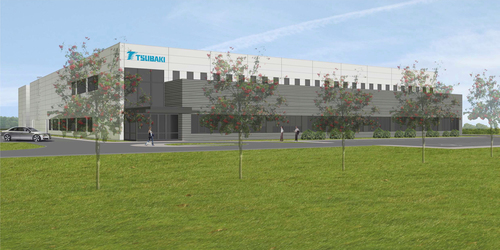 "Building on our success in the United Kingdom; we are very excited about this new development," says Bart Mellink, Managing Director Tsubakimoto UK Ltd. The new company will be recruiting 20 key staff in the summer of 2016. To achieve production continuity, they will all undergo training at the UK production site early next year.
A cross-functional team from Japan and the UK will lead the operation in Kolin in the initial period of 12 months.
Kolin is an industrialised region, host to a number of automotive companies and also to chemical and food processing, glass and ceramics manufacture, engineering and machine building. There are also long-established coal mining and steel production operations in the area. As a location it has already proven successful for other Japanese investors.
Tsubakimoto is a global manufacturer of chain for automotive, power transmission, and conveyor applications. Associated products such as cam clutches, sprockets, shaft couplings, safety devices, toothed belts and pulleys compliment the program. Headquartered in Osaka, Japan, where it was founded 100 years ago to make bicycle chain, today it leads the world markets for automotive timing chain and as such must meet that sector's demanding requirements for product quality and just-in-time delivery.
The Group includes 46 production locations and 63 companies worldwide. The European headquarters is in Dordrecht, the Netherlands. Other European sites include Nottingham in the United Kingdom and Gilching, Germany. Africa and the Middle East are served by the European operations.
You can check the website of Tsubaki Czech Automotive here.