Tsubaki Lube-Free Chain Takes the Heat at Horwich Foundry
The maintenance department at Horwich Castings foundry in Bolton, one of the largest and most advanced green sand casting plants in the UK, was used to roller chain lasting a maximum of six months on a conveyor removing hot boxes from the central mould machine. In an attempt to extend chain life in this arduous environment, standard roller was replaced with Lambda Lube free roller chain from Tsubaki. The chain is still running two years later, there has been a considerable cost saving made on replacement chains, plant reliability is now 100% and the level of maintenance work required has been greatly reduced.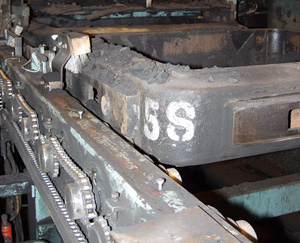 Horwich Castings manufacture castings up to 300 Kg in all grades of grey and ductile iron, supplying the rail and general industrial engineering markets. Central to the whole production operation is an automatic Kunkel Wagner 3-stage high-pressure greensand-moulding machine that presses the sand into mould boxes to create a continuous stream of fresh moulds ready for the molten iron to be poured. Once the castings have been poured, they are cooled and removed from the mould boxes; an external conveyor transports the empty boxes from the cooling tunnel back towards the filling station.
Keeping the moulding machine running smoothly is essential to maintaining plant performance; so when previous roller chain showed signs of wear and began to elongate beyond set parameters, it would be replaced. Chain replacement required two six hour maintenance shifts and was frequently carried out during the evening or on weekends when casting was not in progress. In some instances, unexpected breakages could also cause a pause in production, with the resultant increase in running costs. The use of Lambda lube-free chain has so far ensured the smooth running of the conveyor, it has also completely removed the cost of replacement chain and the additional work required for fitting and maintenance.
The working environment is extremely harsh; as castings are removed from the moulds they are often still glowing cherry red with heat, hot casting sand and small drops of scrap metal are also expelled from the mould and both these elements frequently come into contact with the chain. Effective external lubrication under these conditions is not easily achieved, hence the search for a better solution.
Inadequate lubrication and mechanical wear caused by debris retained in external lubricant are the two main factors that cause reduced chain life in this type of application, both are conditions that contributed to the previous chain lasting a maximum of six months. Tsubaki's Lambda chain uses specially sintered rollers to lubricate the chain internally, the heat does not affect the self-lubricating properties significantly and as the chain is dry to the touch, it does not pick up surface debris. Lambda chain is also shot peened throughout to maximise it's tensile strength and resistance to impact damage.
These features have ensured the performance of Lambda chain is outstanding in applications where the use of standard chain can prove a false economy due to harsh operating conditions or restricted lubrication. The Lambda chain fitted on the moulding conveyors at Horwich Castings two years ago is still in operation and not yet due for replacement. The maintenance team at Horwich approached the problem of chain performance 'as part of a plant-wide commitment to continuous improvement where we are always looking to improve process capability and plant operating performance' they are so impressed with the chain's performance that it's use in other areas of the foundry is currently being considered.