Power & Performance for the Bulk Material Handling and Mining Industry
The Tsubaki Group is the leading manufacturer of mining chains, cam clutches and power cylinders which are used in underground mines, surface mines, preparation plants, power stations and port facility applications. We currently manufacture many different sizes of mine chains for several major OEMs. This relationship enables us to design upgrades for the chain in the mining equipment to meet the ever-changing needs of the industry.
We use alloy-grade steels, heat-treated to precise specifications and assembled with the heavy press-fits required to withstand the punishment of today's more powerful, high production mining equipment. Our complete line of mining chains includes Feeder Breaker Chain, Super Shuttle Car Chain, as well as various chains which are widely used in drill rigs, rotary breakers, face/roof drilling, reclaimers, under cutters, prep plants, continuous miners, roof support machines, and continuous haulage systems.
The Tsubaki Group is also proud to provide a wide variety of in-house designed sprockets, which are required in all chain applications, as well as other related products such as our highly reliable and strictly tested cam clutches and power cylinders, One-Touch Inspection Door® etc. Furthermore, as the Tsubaki Group prides itself on its ability to answer customer's demanding needs through innovative customisation of its products, we are able to manufacture Made-to-Order chains and attachment configurations, sprockets, etc., for your individual requirements. Please consult your local Tsubaki representative for further details.
Surface Mining
To access profitable material deposits located near the surface, heavy machinery and blasting techniques are used to remove overburden rock and soil which would normally impede extraction of materials. Depending on the material extracted, the ore or raw mineral is conveyed to a processing plant where it is either washed, beneficiated, concentrated or refined to achieve the saleable product.
As the extraction and processing of the raw material is done in the most demanding of environments, components on the machinery used need to excel in these conditions. For these applications Tsubaki offers a wide variety of tried and tested heavy duty roller chains, conveyor chains, reclaimer chains, engineering class sprockets, back stops, electric actuators and protection devices for use on equipment or in plants such as:
Rail Loading Stations
Wash Plants
Refineries
Smelters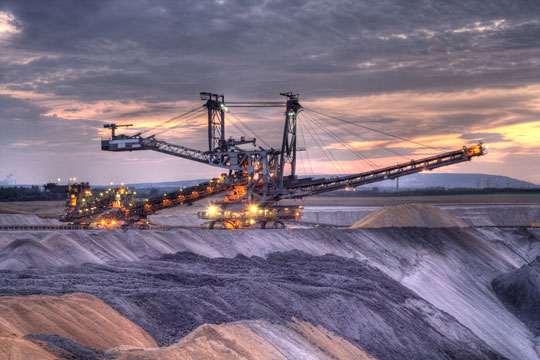 Underground Mining
When desired material deposits are located at levels too deep or too expensive for surface mining techniques, the job must go underground. The desired material is extracted either via blasting or specially designed machines such as long wall miners and continuous miners. The material is then transported to the surface for further processing via various means including conveyors. Prior to being transported to the surface the material can be handled via shuttle cars and bridge conveyors, and sized via feeder breakers.
In this extreme environment shock loads are high and chain and/or sprocket failures can take hours to fix. Thus, efficient and reliable extraction can make the difference between profits and losses. You need to get in and out as quickly as possible, which means maximum performance from every piece of equipment on your site.
For these harsh applications Tsubaki offers their specially designed shuttle car chains, heavy duty chains, and chains for continuous miners.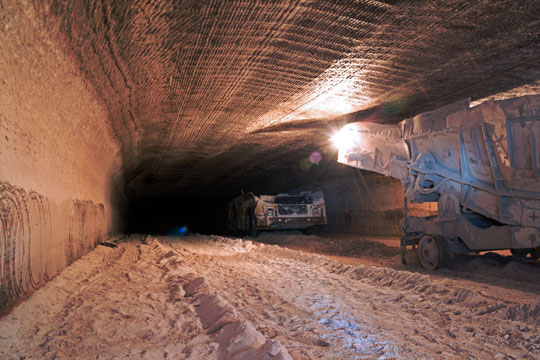 Specialty Mining Products
Although Tsubaki has grown through innovations in chain technology and development for almost 100 years, chain is definitely not our only world class product. To facilitate and support our many lines of high class and highly reliable chains, we at Tsubaki have gone the extra mile to independently design and manufacture our own line of top-grade carbon steel, alloy, and stainless steel sprockets for use with our chains in a wide variety of industries, including mining.
Also, as safety on the work site is of the highest priority to Tsubaki, we have developed our revolutionary series of Back Stops, Cam Clutches and Power Lock devices. Utilised in various applications and industries, the highly refined construction of these unassuming devices provides safety on the job site. Cam Clutches and Back Stops allow freewheeling or overrunning in one direction, and driving or backstopping in the other, protecting both your equipment and employees, while Power Locks eliminate backlash damage to keyways from heavy loads.
Furthermore, for applications where linear motion is required, such as flop gates, opening and closing of roofs and doors, etc., Tsubaki is proud to provide their full line-up of compact and self-contained power cylinders. Utilised in industries such as mining, ports, power stations and so on, these extremely sturdy units may even be operated from remote locations, further increasing the safety and efficiency of your site.
Lastly, for quick inspection of your lines, Tsubaki offers the easily installed One-Touch Inspection Door. With one simple touch you can quickly inspect your lines and then get on with the rest of your operation.

Download the Tsubaki Mining Catalogue in English 14 MB or in Russian 12 MB