8th Generation chain design brings new performance & endurance standards
Tsubaki has launched the G8 Series (eighth-generation) of its RS Roller Chain and its Heavy Duty Drive Chain.
RS Roller Chain is the company's standard, designed to meet the needs of most applications. Heavy Duty Drive Chain is an endurance chain with a high maximum allowable tension for particularly demanding situations.
The G8 RS Roller Chain offers a 20% improvement in service life over the previous designs and a special corrosion suppressing oil is applied to the chain in the final stage of manufacture to inhibit rust and improve durability. Developed in-house, this oil does not leave a sticky residue on the chain surface, making handling cleaner and more pleasant. The new G8 chain is available in 11 sizes from RS40 to RS240.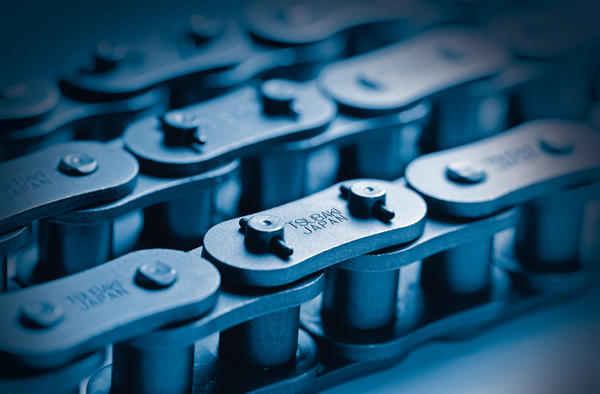 The new G8 Heavy Duty Drive Chain offers greatly improved performance and is aimed at applications requiring the movement of large loads at low speeds. This chain provides increased strength as a result of a new heat-treatment process, thicker material, and innovative geometry while remaining the same size as the standard type of chain. It is available in three variants:
The RS-HT Roller Chain, whose highly precise seamless bushes have doubled the service life. This innovation greatly reduces maintenance needs.
The Super Roller Chain features a new link plate design which increases the load capacity by 5%-10%.
Super-H Roller Chain has a 20% increase in maximum load by providing a ring coin on the inner plate. It offers users the possibility of using smaller chains, which will reduce costs and save space.

The generational improvements to Tsubaki chains form part of the company's constant pursuit of ever-increasing quality. They have come at approximately 10 yearly intervals since the products were originally launched in 1953. In fact, the new G8 chains are being launched in Tsubaki's centenary year, the company being founded in Japan in 1917.