Tsubaki joined 37th Edition of the Rotterdam Marathon
Tsubaki joined the Rotterdam Marathon, the biggest one-day sporting event in the Netherlands. The marathon event is a mix of sports, festival and charity and more popular than ever. Thousands of runners from home and abroad experience what it's like to finish on the famous Coolsingel. The marathon runners came from 82 countries and this still growing event in Rotterdam counted the record number of 15.600 participants and over 950.000 enthusiastic spectators along the route.
The hot and sunny Rotterdam Marathon at Sunday the 9th of April was one of the toughest editions. Only in 2007 it was warmer. The temperature at the start at ten o'clock in the morning was a nice 12 degrees Celsius but in the course of the day the temperature rises inexorably to 20+ degrees. The number of dropouts was, understandable by the heat, larger than hoped.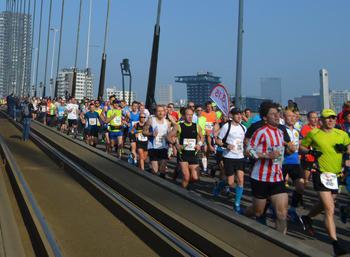 Tsubaki participated in the Business Relay Marathon. This is for many years a very popular part of the Rotterdam Marathon and this year a new record of 4.338 runners joined. Four runners each run about 10 km, together the full marathon distance.
Tsubakimoto Europe took part with 3 teams of staff and customers. The 12 people consisted of a variety of Nationalities: Dutch, English, Russian and Polish. Also 3 people signed up for the full marathon. 2 people of the Finnish distributor YTM-Industrial Oy and 1 of the Polish distributor Quay.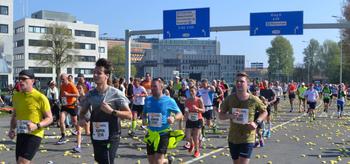 In addition to the runners there was also the necessary corporate encouragement and care. Tsubaki colleagues and family were taking care of transport, personal effects, encouraging during the runs and made sure there was food and drinks for all runners at the end of the business run.
Despite the sunny day being a bit too warm all teams had a very satisfying result.
Also by participating in this Marathon and Business Run all runners were sponsored by Tsubakimoto Europe and raised a fantastic amount of € 2550,- for Hospice De Reiziger, a home for guests in need of terminal care.Tsubaki is very proud of all participants and a big thank you to all of you for your incredible performance, also on behalf of Hospice De Reiziger.
Overall, for everyone around the Rotterdam Marathon it was an unforgettable experience thanks to the athletes, volunteers, spectators, sponsors, municipal services, media, entrepreneurs and shopkeepers. They all made this day possible and Tsubaki is already looking forward to the sequel of the Rotterdam Marathon in 2018.