Traypacker Chain offers unrivalled benefits to food and beverage industry
Tsubaki has developed a special chain for the tray packing machinery widely used in the food and beverage industry. It is internally lubricated so that it is clean in use and does not need regular re-lubrication.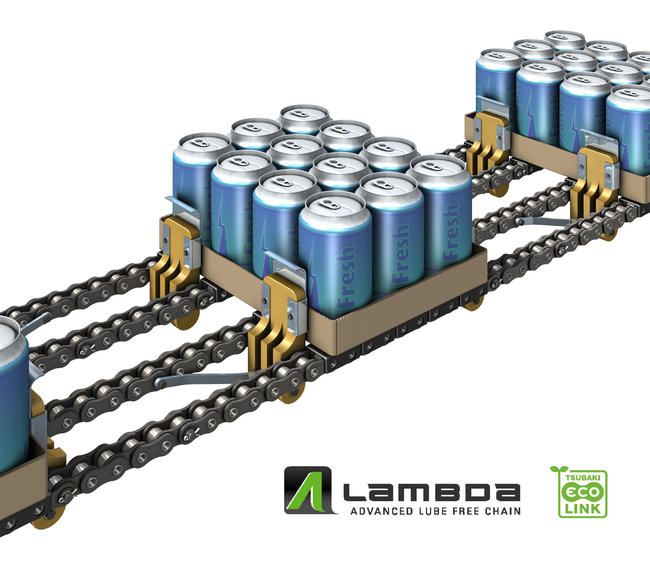 Tsubaki Traypacker Chain is a development of the company's Lambda solution, which uses a special sintered oil-impregnated bush. Like the latest generation of Tsubaki Lambda Lube Free chain, the Traypacker is impregnated with NSF-H1 food grade lubricant as standard.
Tray packing machinery is common in the food and beverage industry and fits cardboard trays or boxes to items, often to create 'multi-packs', before distribution. Naturally, hygiene is paramount and standard lubricated chain can cause contamination of the machine, floor and end product, possibly resulting in increased maintenance requirements, damaged products and reduced profit. Furthermore the lubricated chain itself gets contaminated by dust, glue and paper particles, preventing lubrication to reach the critical areas.
To prevent such problems lubrication can be minimized or completely shut off. But this can cause chain stiffness and uneven elongation of the chain strands, which may lead to production errors and early replacement of the chain.
With Tsubaki Traypacker Chain, the internal lubrication cannot transmit to products, which eradicates contamination. Also the consistent internal lubrication combats the risks of uneven wear and elongation, and does away with the need to apply expensive food grade lubricants.
Significantly Tsubaki Traypacker Chain is slightly narrower than standard Lambda chain, a requirement for most tray packing machines. Further, the machines require pushers to be fitted to the transport chain and for this Tsubaki's designers have developed a bespoke solution in which the attachments are mounted by an engineered extended pin that allows flexible spacing so that different packing configurations can be accommodated.
Additionally, Traypacker Chain is supplied with Tsubaki's Match & Tag Service to guarantee a minimum length tolerance between chain strands that run parallel for conveyance purposes in for instance packaging machinery. Multiple case studies prove that even in the most demanding 24/7 production processes Tsubaki Traypacker Chain shows an absolute minimum in elongation making its performance unsurpassed and offering unrivalled benefits year by year.