New chain supply agreement for agricultural balers
Tsubaki Europe has announced a new supply partnership with Poland's largest manufacturer of agricultural machinery, Unia Group. The new partnership will see Tsubaki chains installed as standard on a number of models within Unia's baler range.
The agreement further illustrates Tsubaki's influence within the highly demanding application of baling, and emphasizes Unia's focus on quality and reliability for its end users.The new supply agreement will see Tsubaki chain incorporated on the DF 1,8 Vd; DF 1,8 V; 1,8 V eco; DF 1,8 Dd; DF 1,8 D; DF 1,8 D eco; DF 1,7 Zd; DF 1,9 Zd and the Master Unia baler models.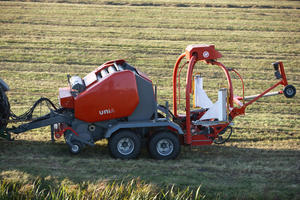 Tsubaki has pedigree in supplying premium drive chain and power transmission solutions to the agricultural sector, which is one of the most demanding application environments components can be subjected to. Chains are expected to perform seamlessly throughout the harvesting season, as component failure causes downtime when maximum productivity is required, usually in a small timeframe, to ensure profit margins are protected.
For balers, ensuring maximum yield for farmers is the primary aim. This places a wide array of demands on a drive chain. Firstly, shock loads during the formation of the bale can significantly weaken an inferior chain, causing elongation and eventual failure. The forming of the bale places similar demands also, as the force required to shape the bale is considerable. To further compound these challenges, drive chains on balers are usually operated at high pre-tension settings, which helps create uniformly shaped bales. In all cases, a high quality chain is required to allow reliable operation throughout a season to preserve profitability.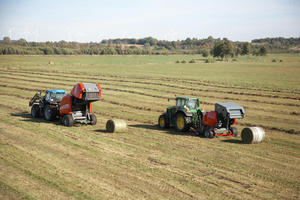 Tsubaki tackles these application challenges by offering the Heavy Duty Chain Series featuring increased tensile strength, which can perform reliably throughout many seasons. Complete customisation is also available, allowing specifiers to install a product that is a perfect fit for their machine. By offering a durable and perfectly adapted solution, unacceptable downtime is kept to an absolute minimum.
Unia is the largest Polish manufacturer of agricultural machinery, offering a range of ploughs, seed drills, harrows, mowers, rakes, trailers sprayers and other agricultural machines. The company produces 25,000 machines a year, with 10,000 of these units exported to foreign markets. Unia Group prides itself on its level of service, as it operates 30 dealerships throughout the EU and a service helpline to ensure downtime for end users is kept to an absolute minimum. To continue this philosophy, it was vital for Unia to specify a chain supplier who was proven in the field, and whose products promoted these values.
Tsubaki had almost 10 years of experience working with Unia prior to the new partnership,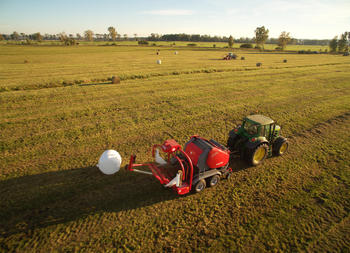 agricultural sector meant that when Unia came to specify a new supplier, it was a straight forward decision.The new 3 year agreement was signed by both Unia and Tsubaki earlier this year, with the scope to further extend the agreement for Tsubaki to supply additional components to the Polish OEM manufacturer.

Mr Bogdan Bargowski, Technical Director and Board Representative at Unia, commented on the new partnership: 'We are looking forward to starting co-operation with Tsubakimoto Chain Company, the largest manufacturer of roller chains in the world."

Alexandre Barboukov, Tsubaki's representative in Poland, expanded: 'We are delighted to add Unia Group to our growing number of agricultural OEM clients, the company's focus on quality products and high service levels is in total correspondence with our focus on quality and reliability. It is further proof that where operational demands on power transmission components are high, our customers are aware of the increased performance of our products, and our exceptional experience in providing solutions for the agricultural sector. The main focus of our customers is to invest in the quality and reliability of their machines, for the benefit of the end user.'

Ultimately the new partnership emphasises both Unia Group's and Tsubaki's focus on quality. End users of Unia Balers can now also benefit from a century of Tsubaki drive chain experience, while Unia can further position itself as a global agricultural major thanks to a reliable supply of high quality transmission components across its baler range.