Tsubaki quality takes the lead for Isle of Man TT riders
The Tsubaki brand is synonymous with quality, durability and reliability - which is why its power transmission chains are the preferred choice for a myriad of different industrial applications.
Thanks to a constantly evolving R&D programme and regular investment in manufacturing technologies, Tsubaki chain leads the field in every industry it's involved with, from Mining and Quarrying to Pharmaceutical. In fact, Tsubaki has even proven itself on the race track, where its motorcycle division has supplied chain to some of the most successful riders at this year's Isle of Man TT.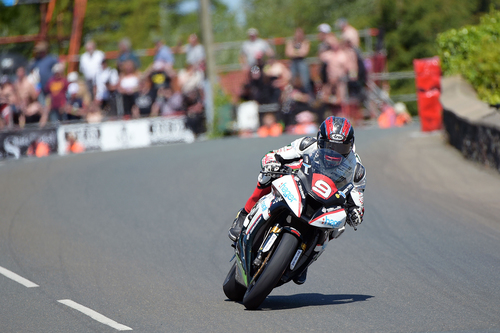 Tsubaki quality helped five riders achieve class wins at this year's Isle of Man TT
Photo by courtesy of Jon Jessop Photography
The Isle of Man TT is widely considered the most prestigious and dangerous motorcycle road race in the world. The race is conducted over 60.7km of closed public roads, making the TT one of the most daunting challenges in motorsport. Riders can hit 200mph (320kph) on tight undulating roads, skirting stone walls and buildings while operating at the absolute limits of human concentration. At these speeds component failure simply isn't an option, not only for the success of the team but also for the safety of the driver and spectators.
This May, the famous Isle of Man TT was the proving ground for Tsubaki's quality standard, as five class winners incorporated Tsubaki chain on their race winning motorbikes. TT legend Ian Hutchinson of Paul Bird Motorsport scooped wins in the two 600cc Supersport races, the Superstock TT and second place in the Superbike TT; beaten in this class by New Zealander Bruce Anstey of Padgetts Racing, another Tsubaki chain user. Tsubaki components also saw success in the Lightweight TT class for Supertwins, with RC Express Racing rider Ivan Lintin claiming his first ever victory with help from durable Tsubaki chain, smashing the previous race record by 38 seconds.
Of course, Tsubaki is no stranger to this kind of performance pressure - though this is certainly a unique and thrilling example. Across every industry platform that Tsubaki operates, its product is vital to the productivity and profitability of some of the world's largest companies, as well as the safety of their employees. Tsubaki Power Transmission products include the innovative LAMDA Lube-Free and GT4 Winner chains which deliver precision performance outlasting competing products by far.
The principles of efficient transmission of power across industrial and motorsport applications remain largely the same, with Tsubaki experience ensuring that their product range always displays certain qualities. Chains must be able to bear heavy loads, as transmission of power may not be constant, increasing stress on the chain and causing inferior products to stretch; greatly reducing performance levels. Low frictional properties are also vital in ensuring smooth operation, as energy is lost through vibration and abrasion, consequently weakening the chain and increasing the likelihood of failure. By minimizing these factors, reliability is guaranteed, with the chain requiring low maintenance while providing maximum performance.
Quality chains can translate to greater production line efficiency and higher profit margins, or tenths of a second on track and race victories. At the Isle of Man TT, Tsubaki was trusted by the biggest names in the paddock to bring them glory. This is the same with some of the biggest names in industry. Tsubaki is incredibly proud to have been associated with such success this year on one of motorsport's largest stages; but it's a level of success that the company expects of itself day in, day out within every industry.